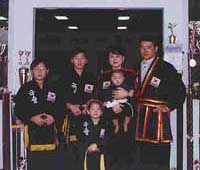 A world-class martial artist, Master Byung In Lee is highly sought after for the magazine covers of national and international martial arts magazines. Master Lee specializes in the double long swords, which he handles with great precision and speed. Master Lee is renowned for his double short staff self-defense technique. His dynamic breaking kicks are spectacular, demonstrating that tremendous power can be gathered and unleashed in seconds.
Master is a gifted teacher, as well. He is an excellent motivator, and is able to guide students to their best efforts. His classes have a very high energy level, and his love for martial arts and for his martial arts students is very contagious. Master Lee is alert to the special needs of each student, and is personally involved in all of his classes at the Austin Kuk Sool Won school. His students include children, parents, grandparents, business and community leaders.
Family martial arts is Master Lee's motto. He and his wife, Tina, are blessed with three daughters: Rose, Julie and Crystal and a son David. All participate in the life of the school, and all help to bring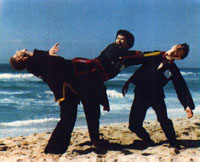 a family atmosphere to training. Respect, courtesy, and practice are fostered at Kuk Sool Won, and those qualities are carried over in all aspects of life. While self-defense is important, Master Lee teaches that the best self-defense is an attitude of fitness, alertness, and respect for yourself and others. Kuk Sool Won training enhances the values and self-discipline learned at home.
Master Lee is now the proud owner of his own facility on Pond Springs Road. As the owner of the physical facility he has much more control over the maintenance of the facility providing him with an environment to more easily meet the needs of his students.